Binary Options – what are they? In the world of investing, a potential investor has a wealth of resources, tools, and methods at his or her disposal. This was not always the case, but with the advent of the Internet and the advanced technologies and increasingly-sophisticated methods in use today, trading is more powerful than ever before.
One of the hottest trends in trading today is found with binary options – an exciting way to make money based on market movements. This form of options may seem exotic to some and is not as commonplace as other methods of options trading, but it is quickly catching on, especially with online trading platforms.
Pocket Option Broker – 50$ Binary Options No Deposit Bonus!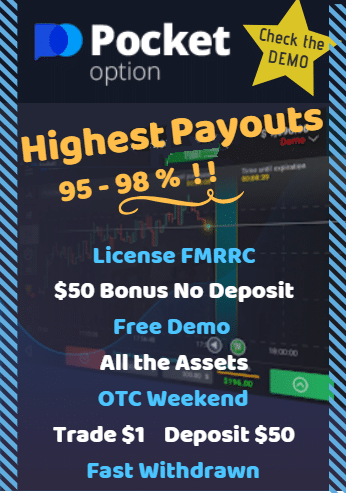 What Are Binary Options?
An option is basically a contract between two (2) parties to buy or sell an asset at a certain price during a certain period of time. When it comes to currencies, an option is a contract to buy a particular currency at a particular price by a particular time, say, EUR at 1.3 USD before the option expires on January 30.
A binary option has two (2) possible outcomes: a fixed payout amount or nothing. Other names for these include all-or-nothing options and digital options, particularly in the forex option community.
How Binary Options Work
Binary options operate very similarly to regular options. When you invest in a binary option, you are basically taking a position for or against a particular outcome. If you meet that outcome, then you receive a fixed payment; if you do not meet the outcome, you lose the amount invested in the option.
For example, let's say there is a binary option that pays out 85% and states that EUR/USD will close above 1.3000 by January 30. If you take the call position, you believe that this outcome will occur; if you take the put position, you are betting that it will not occur, in other words, EUR/USD will close below 1.3000 by January 30.
Most binary contracts pay out around 70% – 90% of the trader's investment amount; so, if you were to invest $200 in the EUR/USD binary option mentioned above which pays out 80%, you could receive a potential gross profit of $160. Binary Options – what are they?
As you can see, binary options are extremely attractive methods for those who want to earn a lot of money without a lot of risks.
There are three major differences between binary options and regular (known as vanilla) options:
Vanilla – Expiry Time: Monthly or quarterly expires.
Binary – Expiry Time: Expires at the end of the hour, day, week, or month.
Vanilla – Payout: Depends on the magnitude of the asset price change.
Binary – Payout: Fixed on purchase of option: 65 – 95% if in-the-money or 10 – 15% if out-of-the-money.
Vanilla – Execution: Can be executed at any time up to the expiry time.
Binary – Execution: Cannot be exercised before the expiry time.
These differences have several consequences:
1 The short term multiple expiry times means investors can make an instant profit on their binary options and are more flexible in their option investments
2 In vanilla options, an investor pays per contract (i.e. point). Subsequently, the investor will profit or lose an amount depending on the number of points difference between the expiry level and the strike price.
Unlike in binary options where the two outcomes are set from the start
3 An investor in a binary option must hold onto his option until the expiry date. He must therefore take more care when purchasing his options as he cannot sell them once they are purchased. Binary Options – what are they?
In Conclusion:
Binary options have a lot of potential for traders who want to earn a profit without navigating the often-risky up and down world of forex and stock trading. Learning more about binary options could open up the doors to potential profits for a savvy investor, making them worth a shot.
Trading binary options on our platform partners is a novel and interesting method of investing in the financial markets. They are more straightforward and flexible than traditional options but as with all investments, planning ahead is an important part of succeeding.

Binary Options – what are they?